Hi,
this canvas is for Designer's Faves" Challenge – Finnabair challenge "Go for the gold!". I wanted to show you that you do not need many embellishment to create mixed media project. All what I needed for my canvas were old plastic beads in different sizes NO MORE, really!
Canvas has got 18x24cm. I apply through stencil raindrops – structure paste than  I applied black gesso all over it, than I prepared stencil for drops in 4 sizes – just from piece of card stock. Through stencil I applied 3D matte gel, for some parts of drops I used also Golden glass bead gel. Than I glued to every drop different beads. I cover everything with white gesso and than I played ok hours with gold art alchemy paint and with Gansai Tambi starry colours watercolours and with Tattered Angel Dragonfly glimmer mist. Sentiment is from 7 dots studio. White and black details are made with Derwent graphic pens.
The hardest part was to take photo of it. It is so black and shiny! That I really did not know how to arrange it.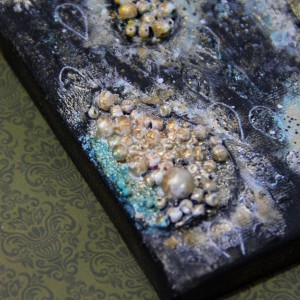 Kate