There should always be some time for crafting with children.
My son loves drawing, stamping or modelling from play dough. Iam preparing for him different activities. I also made many children  projects for Aladine Czech Republic and now I translated them my czech project for you into english.
In this project we will make funny card. You can also play with it not just give it. It is very easy project. Help children with glue or scissors and another parts they can do absolutely alone.
Supply
–  papers
– colours
– scissors
– Skotch tape
– glue
– stick
– any kind of children's stamp – chicken or another animal
Instruction
1. stamp on paper animals and colour them, let among animals some space (you will cut them)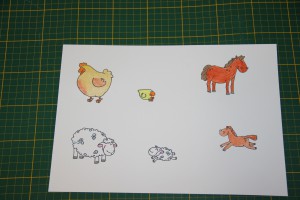 2. cut out animals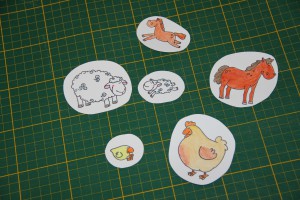 3. on the wrong side of animals glue stick with Skotch tape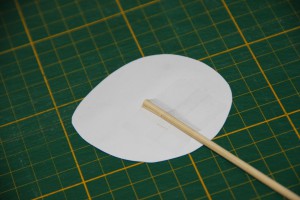 4. take basic paper (A4) and fold it down in the middle to create basic of card
5.  take green paper and cut from it rectangle  (size of half A4 and also shorter) to create grass – grass is made with scissors
6. glue grass onto card just at three narrow sides – create pocket
7. insert animals into the pocket, you can also draw some flowers onto grass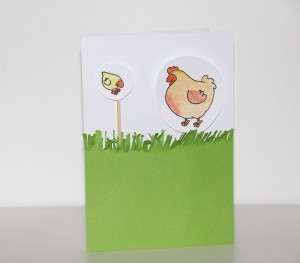 It is easy and funny project for all children.
And look what my son also did – funny decoration of plant.
I hope you enjoyed this project.
Have nice day
Kate