Hi,
I would like to share with you romantic Christmas canvas. I love Christmas crafting and with Brusho acrylics sprays it is so easy. I also like to combine products for papercrafts and for floristics.
Base of my canvas is shaped MDF (made by my friend who owns laser). I applied white gesso over whole canvas. Than I used paste to create some texture with snowflake stencil.  Than I glued different embellishments – plastic flowers, pinecones, die cut leaves, pebbles and also cute wooden reindeer. At one side I made whole arrangement. I also used some art stones just to add even more interest and wax for defining edges of my snowflake canvas.
And now the fun part – colouring with sprays. I wanted to have red-gold-white canvas. So my choice was Acrylic mist spray – scarlet and Acrylic shimmer spray –  shimmer gold. That combination is really awesome and as you can see colours added really nice final touch to my canvas. When you do not want to have "sharp" splatters you can always dilute them with bit of water.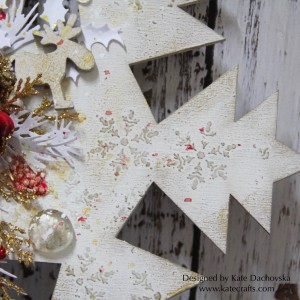 Have a nice day
Kate
Material: