Hi,
I hope you have got calm September, kids are back to school and we can have more time to create! Because you know summer is all about resting, relaxing, reading, swimming, sunbathing but now colder days are coming and we have more time to spend by our craft tables.
For today I prepared mixed media canvas, it is mini canvas just 20x20cm. I worked with great papers from Russia – Artelier paper – they have amazing nature collection of papers and ephemera. To my canvas I just added some stamped and heat embossed images and one paper flower and one butterfly (plastic from floristic shop) and chipboard tree from ScrapFX.
This is my the very first project where I used Brusho acrylic mist spray – in colour – Lemon. I will make later special video about Brusho acrylic sprays to show you how amazing they are. I combined Brusho spray with Brusho pigments – Dark brown, Terracota, Moss green. All these colour together make awesome background and color combination for my canvas. I hope you like my inspiration and that you will try some Brusho acrylic mist spray too because they are super!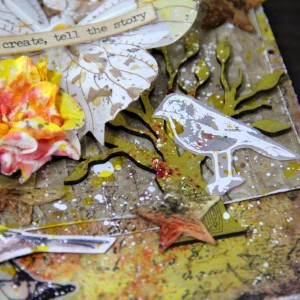 Have a nice day
Kate