Hi,
recently I purchased Gelli plate, I am really beginner in making backgrounds with it. But one I really love from the first moment is this easy technique – you cover plate with one acrylic paint, than take any interesting die cut put it on it, put paper over it and push all over its size – the paint will be transfered to paper but place where was die cut will be white. Than you will have super background for your card. Easy quick and not so messy as other techniques. You will clean just gelly plate and brayer but rest of paper die cuts you can trow to trash or use in any project because it will be coloured. I worked with gold and copper acrylic paint (Prima Marketing) –  they are really super for background – they are shimmering when you look at card from some angle (see photos below). Background made with Gelli plate is not perfect, it is somehow distressed, interesting and mainly very original. I have small Gelli plate just 6x6inch and for cardmaking it is enough.
For my cards I used:
Happy For You stamp set and Happy  Dies.
Happy sentiment is die cut from metallic paper. Other sentiments are stamped with Versa mark ink and heat embossed with white embossing ink.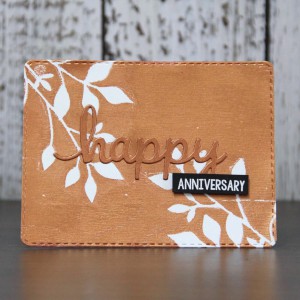 Have a nice day
Kate