Hi,
this canvas is for January Challenge – Monochromatic at 7 dots studio.
Creating of this canvas was really adventure. I wanted to have canvas in brown or grey tones but I accidentally took spray which looked like dark and it was dark purple. So I changed plans and made this monochromatic canvas 🙂 Next time I really need to check my spray swatch! But on the other side I really like how canvas looks like in purple. I made canvas also for my studio, I have quite big studio with plenty of white space on walls so I decided to make more art to decorate it.
Photo is of our younger dog – sharpei Dobby, that was the first day when we bough him, he was sleeping in small basket. So cute puppy! (Now he is 6months and still so cute 🙂 )
Size is 18x24cm.
medias: Finnabair – heavy gesso, matt medium, texture paste white sand, modeling paste
Golden – glass bead gel, extra couarse pumice gel
sprays: Tattered Angels – afraid of the dark, chalkboard – iron, Ranger –  distress mica spray
embellishment – what I found in stash – buttons, rest of some chipboards, some heavy embellishment from hardware shop, many hand made flowers from light Deco clay, some resin roses, some beads, iron wire, zipper ….
papers: 7 dots studio – Writer's block – I had to paint papers with purple colour to match my canvas 🙂
stencil: 7 dots studio
metal dies: Frantic stamper – Ornate edger, Damask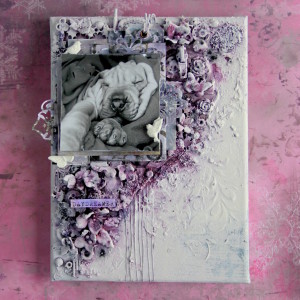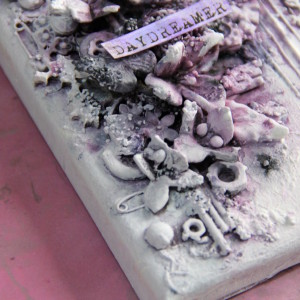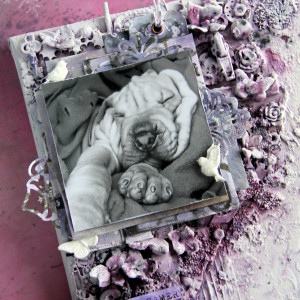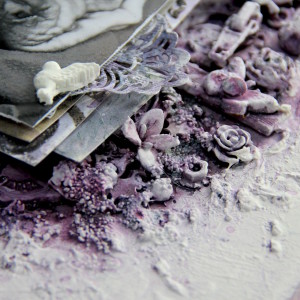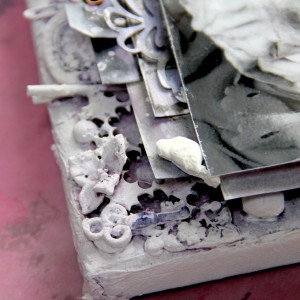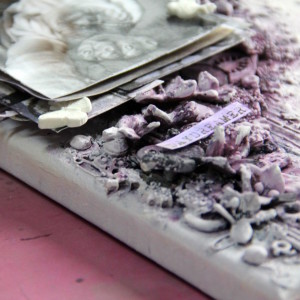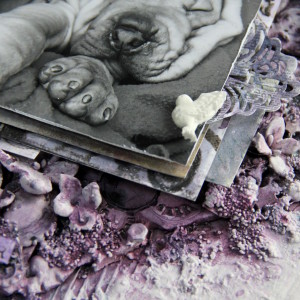 Have a nice day
Kate