Hello,
welcome to my blog.
We have today super fun with DCWV design team and Pink and Main design team, what is more than crafting with great products and with good friends ??? These two teams have put a blog hop together featuring Harvest-themed projects for your enjoyment. The combination of DCWV and Pink and Main have made this blog hop a winner already! I am excited to hear what you have to say about these projects so make sure and comment!
So, without any further delay, please take a look at what all of the designers have created for your enjoyment and inspiration. Once you get back to the DCWV blog, please leave a comment on what you enjoyed most (design, product, both), and you'll be in the running for a giveaway! 3 people will be chosen at random to win a free Christmas stack!
For DCWV blog hop I prepared cute cupcake toppers. We do not celebrate here in Czech Republic (Europe) any Thanksgiving day but we love parties and other fall celebrations because fall is so magical time of the year,  so this kind of mini cucpakes I make really often. There is not so much of sweet cream as by usual cupcakes so you can eat more and you will not be so full 🙂 At the end of this blog post you can find also recipe (scroll down for it).
Now how to: cupcake toppers are really easy and you can use any of Pink and Main stamps and dies with great DCWV papers
I used:
stamps Pink and Main:  Hey Pumpkin, Nut House, Scarecrows, Sunflowers  
dies Pink and Main: Hey Pumpkin dies, Nut House dies, Sunflower dies, Scarecrows dies, Nested Hexagon dies,  Scallop Hexagon dies  
papers:
12×12 Fall Stack DCWV
All images are stamped with Versa fine onyx black ink, coloured with Zig Clean Color Real brush markers. For all images I used coordinating dies so preparing of cupcake toppers was not so time consuming. From patterned paper with different scalloped dies I prepared background and then I made mini fall scene with pumpkins or with super cute teddy bear sitting on leaves.  I used also some of foiled patterned papers and I have to say that I love them!!! Even for background of cute stamps they are super (only take correct photo of it is little bit challenging).
I hope that you like my cupcake toppers and that you will make something similar soon. Do not hesitate and share with us your project – visit our Facebook creations gallery page.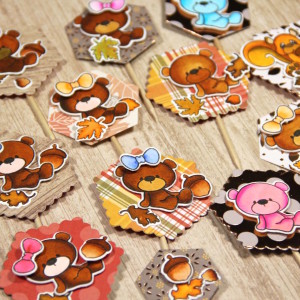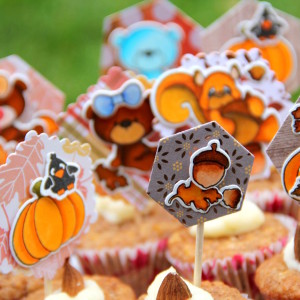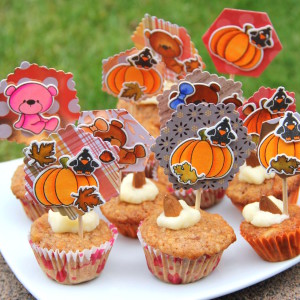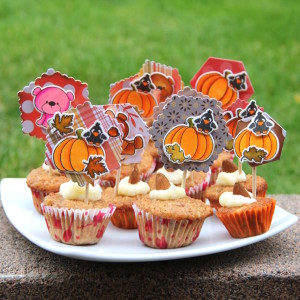 You are now by Katka and it is time to hop to: MONIQUE
Katka
RECEIPE – mini apple cupcakes with lemon cream
(sorry that measurements are in our european units – grams, 100g = 0,22lb = 3,527 oz)
240g flour
240g sugar
150g non salted butter (melted)
4 eggs
2pcs baking powder
1 vanilla sugar (10g)
600g grated apples
cinnamon, walnuts, raisins – what you like
Just mix everything together and bake mini cupcakes as normally. For cream I used non salted butter, sugar and lemon.
Have a nice day
Kate