Hi,
finally I found some time to create gallery with my work, you can find it in the top menu on my site.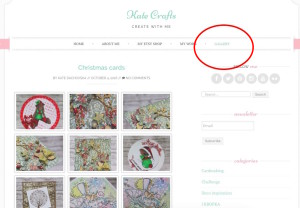 I tried to make categories according to topics of card so you can find here christmas cards, birthday cards, cards with Gorjuss …. also my layouts and mixed media projects. When I see all my work at one place I have to admit I made tons of projects 🙂 so much fun with crafting. Photos are from 2015 and 2016. Older projects are on my Flickr gallery.
I had bad experience with Flickr, as you know when you want to make Flickr gallery you need to have account by Yahoo, that is no problem. But when you do not use that account and you only manage your Flickr gallery, Yahoo will delete this account and you will have no more access to your gallery!!! Really!!! So disgusting approach to clients 🙁 No matter how many emails you write to Yahoo they will not renew your account. So I have over 2000 photos in gallery which I cannot manage. Crazy? By Yahoo normal 🙁
So now I have my own gallery made on my private pages, no more problems.
Kate