Hello,
I was one week by my mum and I took with me just stamped images. I coloured many stamps and mainly amazing crazy birds. Today I made with them funny cards. Clean and simple with different sentiments.
translation: Do we look in that christmas feathers stupid? Yes but what can we do it goes to Christmas. Hmm ok so merry christmas …
translation: Now? Yes! Really! Yes go and get dressed it is Christmas time!
translation: Again? Yes. Really? Yes. One year older … Don't worry it will be even worse!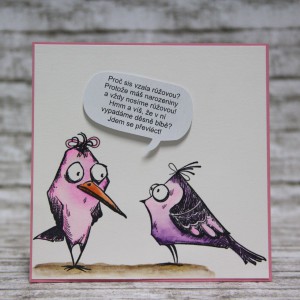 translation: Why you get dressed in pink? Because it is your birthday and in that day we wear pink. Hmm and do you know that we look like very stupid? Yes, let's go change!
Kate