Hi,
this is my first mixed media card tutorial. Oh I really felt in love with mixed media style. It is something really another than my usually crafting. So I decided to show you how easy it can be.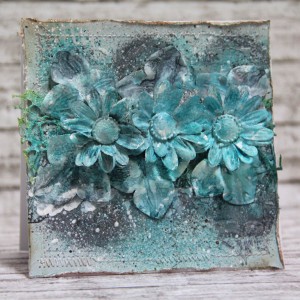 1. I had some plastic flowers I paint them with two coats of gesso. And let them dry. This step you do not have to do, you can use any kind of flowers which you have. I just want to use them because they were so long waiting in my drawer.
2. Take some high quality scrapbook paper and sew frame around it and distress borders. I used paper from 7 dots studio, I love their papers, they are just perfect for mixed media.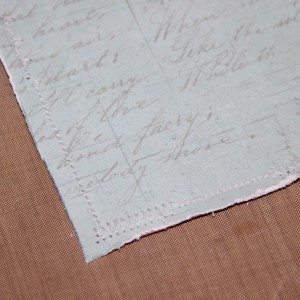 3. Take some structure paste, stencil and make first layer at your card base.
4. With another stencil and some of you favourite Distress ink, make second layer.
5. Use Archival ink or Staz on ink and some script stamp (mine is Kaisercraft) and some butterfly stamp (Deep red) and stamp randomly images around your paper.
6. Final step is to make splashes with colours, I used white and black acrylic paint and Lindys stamp gang spray.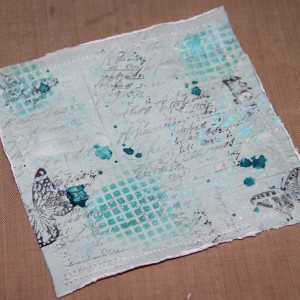 7. Find some interesting ribbon or something else, paint it and glue it onto paper. It makes interesting background for flowers.
8. Glue flowers and leaves, spray them and background with some favourite sprays – I again used Lindys stamp gang sprays and for more splashes Gesso. And that is all.
I hope you liked my easy tutorial.
Have a nice day
Kate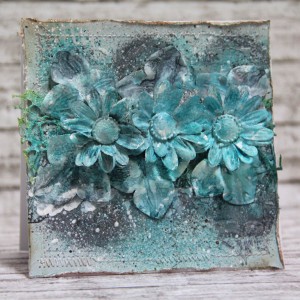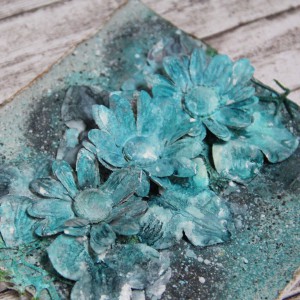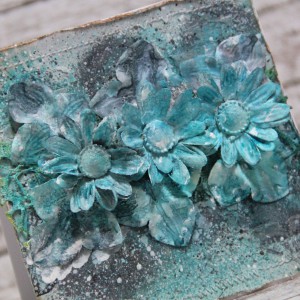 ¨