Hello,
it is really huge a honour for me to be Guest designer at so great stamp company – The Alley Way Stamps. Thank you very much for such a great opportunity to show at The Alley Way Stamps blog what I can.
Today I am going to show you what funny things  you can make from stamp set called – Monster Mash. It is really great and funny stamp set, full of little monsters and  super sentiments. It is building stamp set, you can build any monster you like. I have 6 year old son and when he saw it, he said "Mummy you should make funny card and something more, you must use many colours but it must be for boys." So here it is my funny card and candy paper box. I hope you enjoy it.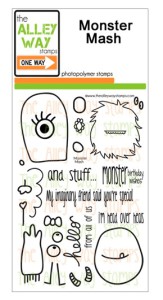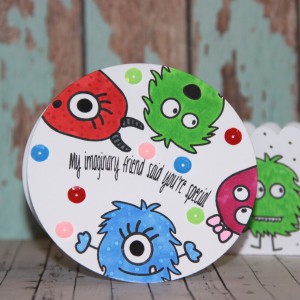 This project is very easy and you can craft together with your children.
Card: base is made with 2 circles, monsters are stamped with memento black ink and coloured with Copics,  detail in eye (I like black eyes more black than ink is) is made with black 0,3mm Copic liner, sentiment is stamped also with Memento black ink, finally I add some Lawn fawn sequins (usually I am using Glossy accent as adhesive for sequins), both circles are glued together just in upper part.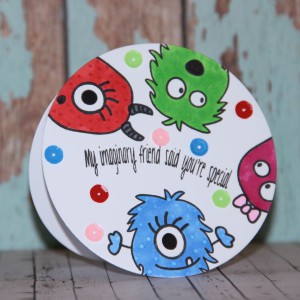 Paper candy box: we have here in Europe another papers than you in USA, I am using usually paper from small Czech paper factory, it is high quality paper, 190g/m2, great paper for Copic colouring and also for all cutting machines – base of basket is made at Silhouette Cameo cutting machine (I really love it, such great helper in crafting), monsters are stamped with black Memento ink, coloured with Copics, sentiment is also stamped with Memento ink, sheer ribbon is from May arts (I am addicted to their ribbons, they are so perfect for all crafting), dots are made with black Copic marker, box is glued with roller tape adhesive.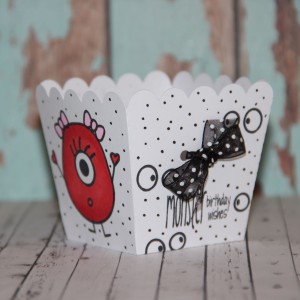 So, as you can see my projects are very easy and everybody can try it. You can play with monsters as you wish. I love stamp sets which are so flexible. My son loves to craft with me and this stamp set is for both of us.
Have a nice day and I am sending greetings from frozen Czech Republic
See you next week
Kate