During summer I was sitting in front of my notebook and learning how to work in Adobe Illustrator. Oh sometimes it was really hard, I was angry and not able to use some functions. But finally I did it! I designed many stamps and today I am going to show you the firs of them. They are not for sale, they are just for my work.
The first is nice christmas tree. Here are some examples how I did use it.
Than I designed snowflake tree, I must say I love it! It looks so pretty even when you add just one colour paper under it.
The third stamp is very nice wreath. All made stamps were made from base picture which I officialy bought in vector database. But I remade them almost completely.
At previous pictures you can see very nice snowflake background, again my stamp. I designed background stamp in size 15x15cm, it is super to have such a big stamp, you can stamp background once. I designed two background stamps one with many different snowflakes and one with falling snowflakes. I decided to make christmas cards with my favourite Gorjuss stamps. It looks so festive.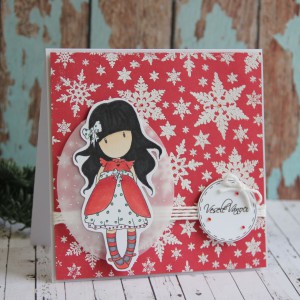 I hope you like my new stamps. I hope next year I will made my own stamp sets for sale.
Kate