Hi,
I was not here because we had last week before school and I spent time with Toby. It is his last year of kindergarden. On saturday we had garden party for our friends. It was super, grilled meet, lots of vegetables and also something sweet.
I made some czech tradition cookies and for kids also mini cupcakes. I do not make big cupcakes because I think that they are really big for small children. So I am usually making small version and I must say that they are really hit! Mainly when I add some funny pictures. This time I made three kinds of pictures.
The first were Penny Black – 9 lives. All images are stamped with Memento tuxedo black and coloured with Copics. They are stamped on circle which I cut on my cutting machine and they are added at wooden stick with small adhesive dot (that is really best way how to attach stick to paper).
So here are Penny Black mini cupcakes. I am big cat lover and I think that these funny cats are just perfect for mini cupcakes.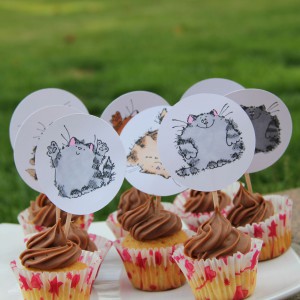 Another stamp set which I choose was Beep Boop Birthday from Lawn Fawn. Small and nice robots are super for small boys. You can colour them with any colour also pink. It is funny and I think mini cupcakes with robot are just best!
And because party was really big I made more mini cupcakes – another pictures are from Lawn fawn – Into the wood. I love these small animals and also another pictures from that stamp set are super. It is more naturally looking such designed cupcake but I think that it is super for girls. You do not have to make pink things you can choose cute animals.
Cream at cupcakes is made from nutella the most favourite sweet thing of my son and base is just basic muffin dough. I hope you like my mini cupcakes and you can be inspired by them. Try it it! It is really fun and you will be star at your party.
Kate